Asset Management
Submitted by Wise on Sun, 04/06/2014 - 09:31
English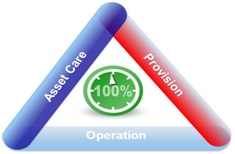 What is Asset Management ?  Through systematic asset providing, caring and operating, optimise the life cycle of assets to assure the competitiveness of one enterprise.
OEE or TCU is often used as one index to measure or trigger asset provision and operation, PTU is the measurement of maintenance and operation level of equipments, and MME, MTBF, MTTR, TBM or CBM based maintenance method vs corrective maintenance method, spare parts consumption and  relevant service cost are the indicators of asset care or maintenance level . OEE or TEEP, Activity based operational cost, production time per unit product, waste per unit product or utilities per unit product and etc. are often the indicators of operational level of one enterprise or plant.
−Systematic and coordinated activities and practices through which an organization optimally manages its assets, and their associated  performance, risks and expenditures over their lifecycle for the purpose of achieving its organizational strategic plan. 
−The optimum way of managing assets to achieve a desired and sustainable outcome.
7 areas of ISO 55000 Requirement
1,Organizational context: The policy and strategy of one company. What are the pains or expectations of stakeholders or AM relevant people. Short term, medium term and long term vision or policy of AM, Gaps and priorities of AM, AM scorcard: KPIs and targets, AM master plan (1 year). The relevant supportive 1) strategical, 2) financial, 3) risk and 4) life cycle management should exist.
2,Leadership:To define the organizations, roles, responsibilities (related to asset management) and performance management. Assure 1) strategy, 2) organization and development, 3) contractor management and 4) operator asset care are properly executed in structure.
3,Planning:To develop a strategic plan for asset management in line with the policy and objectives. Establish systems and tools to facilitate organisational planning.Establish systems, tools and processes to ensure the longevity of the assets. The activities include: 1) Develop risk evaluation and identification methodology and reporting requirements. 2)  Walk down the asset base recording all applicable attributes. 3) Evaluate asset register for criticality based on enterprise developed criticality criteria. 4)  Apply asset care plan development process to applicable (high criticality assets). 5) Formulate the strategic activities (short, medium and longer term) required to meet the organisational strategic objectives through the asset management plan. There are three categories of key deliverables which include risk management, planning for asstes and asset management planning. Risk management includes Risk Evaluation Process, Risk matrix and Risk register complete for plant. Planning for asstes include Comprehensive Asset Register, Asset Criticality matrix, Asset Care Plan development guide and Asset Care plans for critical assets (top 10%). Asset management planning includes Asset Management Strategy, Asset Management Plan and Asset provision and life cycle management. So 1) strategy management, 2) information management such as supportive SAP system to support correct, quick and systematic data, 3) technical information, 4) Financial management, risk management, 5) asset care plan, 6) work planning and control, 7) material management and 8) life cycle management of asset are covered in this area.
4,Support:The asset management function should receive support from all other parts of the organization. Marshaling this such support and applying, verifying and improving it is an objective of the asset management system. The processes of the asset management system should determine and provide the information needed to fulfil the strategic plan through a formalised approach. Main activities include 1) Identify appropriate organisational competencies and the training requirements, 2) Establish maturity appropriate communication mechanisms through workshops and technology, 3) Build one information platform to collect relevant data, report and manage assets,  4) Workshop and develop a management of change business process. There are 5 categories of key deliverables including Competence, Awareness & Communication, Information System, Document Management and Governance of AM System (•Management of Change process). Competence includes Training Matrix & Plan, Development Plans and Capability Matrix. Awareness & Communication includes Asset Management  Induction program and Communication Strategy. It covers 1) information management, 2) technical information, 3) organization development, 4) contractor management, 5) Financial management, 6) risk management, 7) Enviroment, health and safety, 8) support facilities and tools and 9) project and shutdown management.
5,Operation:The asset management system should enable the organisation to direct, implement and control its asset management activities, including those that have been outsourced. Establish a mechanism to evaluate potential and actual changes with respect to the risk profile and to instigate mitigating actions. Main activities: 1) Review current work planning and scheduling processes and tools for maintenance activities and optimise them in line with developed asset management plans. 2) Establish processes to identify, review and manage changes. 3) Review current contractor management processes and procedures with a view to optimise them. 4) Develop a contracting matrix. and 5) Review and evaluate current stock management systems and processes and recommend improved management methods. It covers 1) contractor management, 2) work planning and control, 3) operator asset care and 4) support facilities and tools.
6,Performance Evaluation:To establish a balanced set of measures that can be applied to the entire organisation at all levels.To provide an accurate set of data against which informed asset management decisions can be taken. It covers 1) performance evaluation, 2) information management, 3) technical information, 4) life cycle management, 5) performance measurement and 6) focused improvement.
7,Improvement:Organization needs to consider nonconformities, and their associated consequences, in its assets, asset management and the its asset management system. The asset management system should promote continual improvement, to ensure the suitability, adequacy and effectiveness of the asset management system and asset management. Continual improvement is most effective when it is proactive and uses the results of performance evaluations. It covers 1) asset care plans, 2) work planning and control and 3) focused improvement.